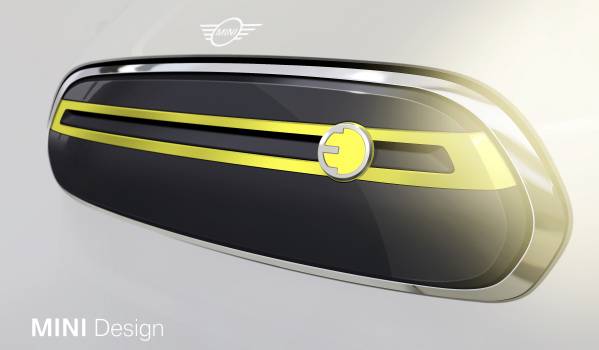 Releasing only two tantalizing, teasing images, MINI has sparked the imagination of all by previewing details of its first ever fully-electric model this week. "MINI is an urban brand and the fully-electric MINI the logical next step into the future… These initial sketches for the fully electrified MINI outline our vision of authentic design creating a bridge between the history of the brand and its electric future," says Oliver Heilmer, Head of MINI Design. Initially revealed at the Festival of Speed in Goodwood, England, these sketches show off the new car's grille and the fresh wheel design coming to the electric Mini granting us just a peek at what's to come.
Firstly, the new grille takes on the hexagonal shape that's familiar to the classic Mini style; however, the closed-off look is entirely different and highlights the lack of cooling elements (and better airflow) of this new electric model. Proudly sporting an off-center "E" badge, the grille also boasts a bright yellow accent bar which obviously demarcates this model as electric. Then, in the second sketch, the new design for the wheels of the soon-to-be electric Mini is inspired by the motif of the grille--but with an asymmetrical, modern twist. The first ever full-electric Mini will start to hit the roads just next year--so keep a lookout! The bright yellow won't let you miss it.
Want to check out our current selection of hybrid and electric vehicles? Just click here to visit MINI of San Antonio today!