MINI of San Antonio near Boerne, Texas has a 2019 Mini Cooper Clubman for sale.
What's got four doors, heaps of space for cargo and passengers, and comes in ten different vibrant and fun colors? The 2019 Mini Cooper Clubman, that's what! Whether you're headed out to the lake for a weekend of fun in the sun with your pals, or you're headed to the mountains to cozy up with a loved one in a cabin, the 2019 Mini Cooper Clubman is the perfect car for you.
Click here to view our current inventory!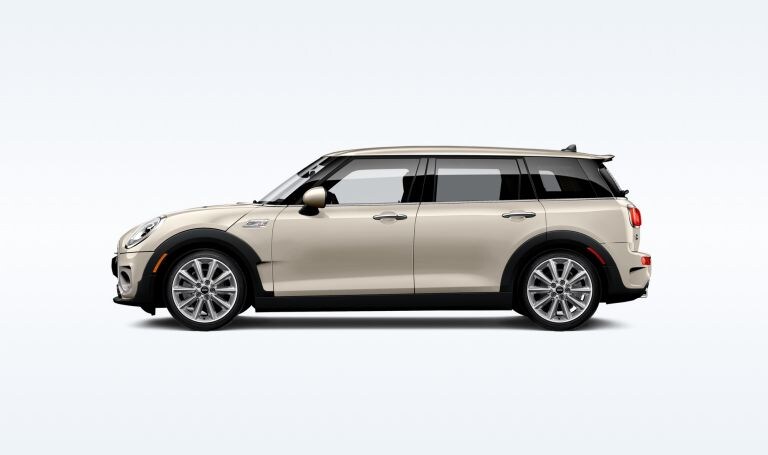 Technology: With new cars come new technology and the 2019 Mini Cooper Clubman has a bunch! With the Driver Assistance Package you receive: Park Assist for all those times you've got to reverse and need to see directly behind you, a Head-Up Display to show important information directly in front of you so you're never distracted while driving, and Adaptive Cruise Control automatically adjusts your cruise control based on vehicles around and in front of you.  
Design: Four doors come standard on the 2019 Mini Cooper Clubman, but depending on the trim you choose your wheels will come in three different sizes. The Classic trim features 16" wheels, the Signature trim features 17" wheels, and the Iconic trim features 18" wheels. British Racing Green and Pepper White are also just two of the ten optional exterior colors you can choose for your new 2019 Mini Cooper Clubman, so the hard part is just deciding on one.
Performance: Capping out at 127 miles per hour, the 2019 Mini Cooper Clubman has a super snappy speed that goes along with its sophisticated style. The TwinPower Turbo, 3-cylinder direct-injection engine catapults the 2019 Mini Cooper Clubman forward to speeds up to 134 horsepower at 4400 rpm--that sure is one nice ride! The Clubman also comes in either a 6-speed manual or automatic transmission, it's just a matter of how you prefer to drive.
Ready to take home your very own 2019 Mini Cooper Clubman? We're ready to help! Click here for directions to our MINI dealership in San Antonio, TX!
Needing MINI service in San Antonio or Austin, TX? Let us know. Click here to contact us and we'd be happy to assist.
MINI of San Antonio is a new and used car dealership that provides vehicles to customers all over Texas. We have customers come in from Canyon Lake, New Braunfels, Austin, Kirby, Allen, Boerne and many more cities. Let us know if you have any questions.