This is the small electric car you've been looking for,
starting at $29,900.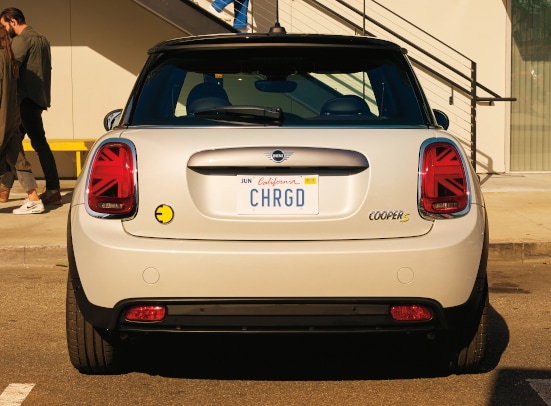 We've combined our legendary design with all-electric power to create an energetic drive you'll have to feel to believe.
This MINI Electric is fully loaded with premium standard features like Apple CarPlay™, Active Driving Assistant, and heated front seats for $29,900 or less after potential tax credits. Who knew sustainable driving could be so much fun.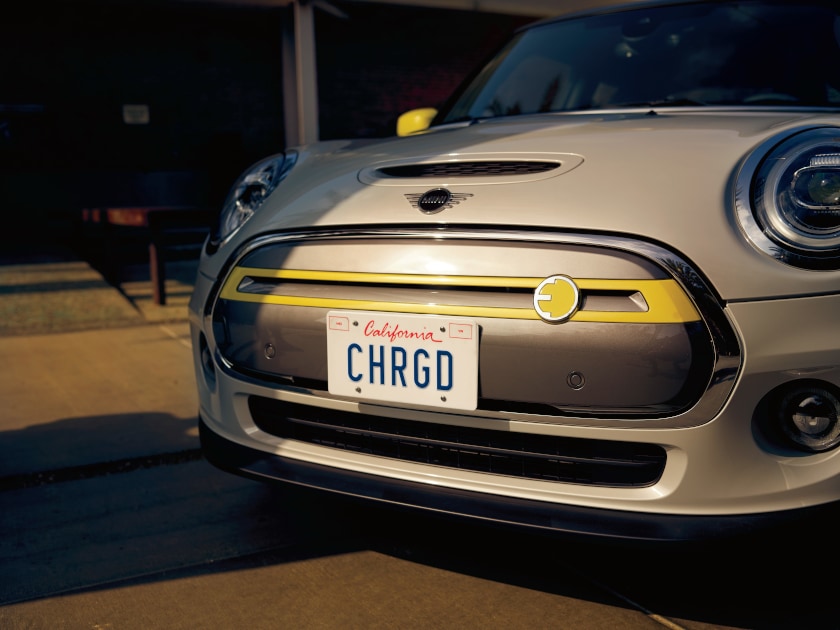 A NEW ICON IS BORN
Take a premium Hardtop 2 door and amp it up with electric power and a long-lasting charge - all with zero CO2 emissions. Experience an electric kind of ride only a MINI can provide.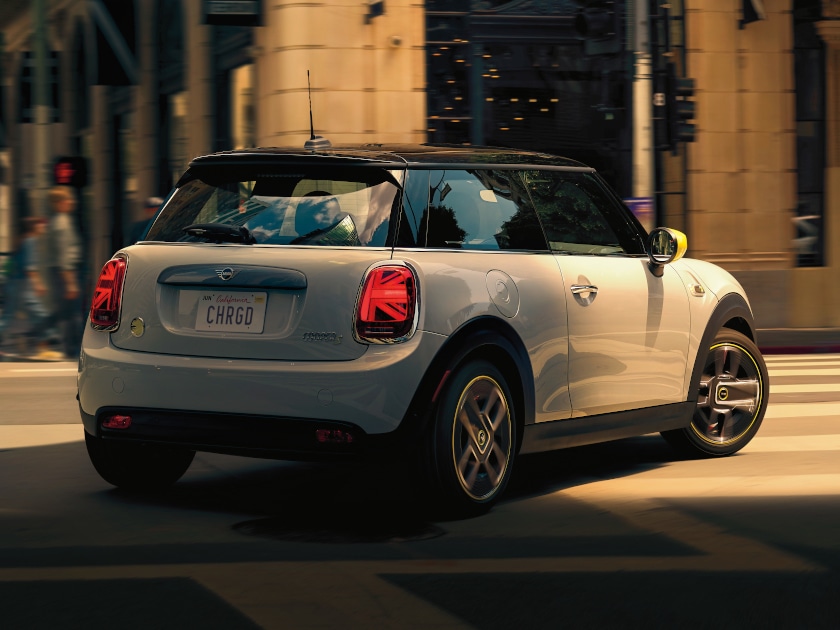 HOURS OF ADVENTURE

Whether you're going to your local grocery, commuting to work, or escaping for a fun day trip, your MINI Electric will get you there with just one charge.
---
    ELECTRIC NEVER FIT YOU BETTER.

We believe purchasing an electric vehicle shouldn't mean making compromises. The MINI Electric has everything you'd expect, with the unexpected twist of all-electric power. Drive more, wait less, and stay behind the wheel to get wherever you want to go.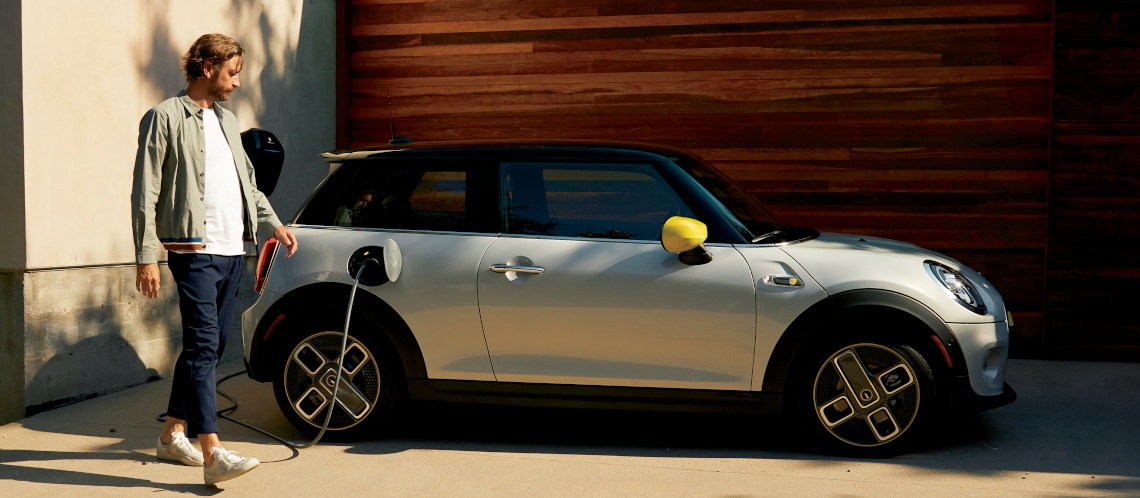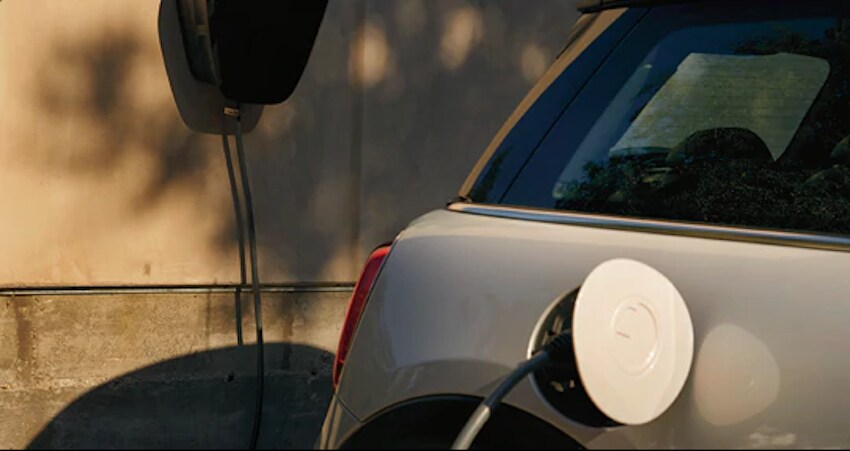 CHARGE AT HOME
Leaving the house on E is so outdated. Use the charging cord that came with your car anytime you like in the convenience of your own home - the car plug outlet is any standard three-prong you currently have.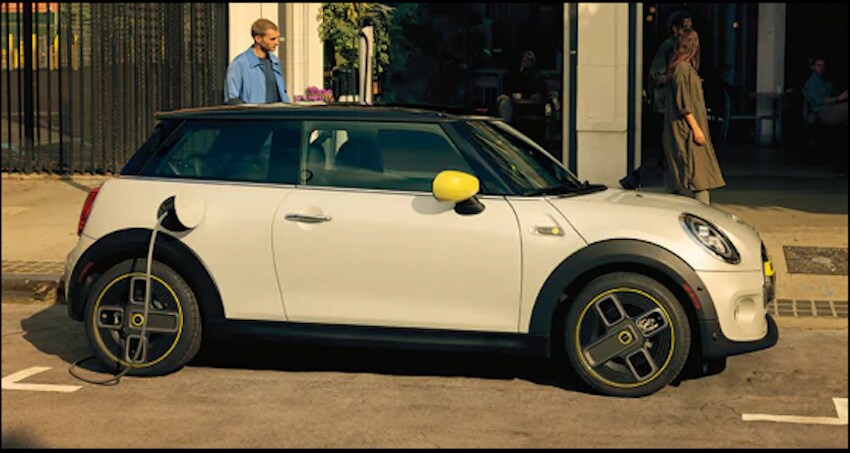 PARKING WITH POWER
Grocery stores, malls, city centers, and anywhere else, really. Public charging stations are popping up everywhere, so you can live your life and power up at the same time.

SIGNATUREPrice starts at $29,900¹______________________________
- $7,500 Federal Tax Incentives*

- $2,000 Additional Incentives (see terms + conditions)
$20,400

After Potential Incentives

________________________

ADDITIONAL SAVINGS:
- AVG $4,000 fuel savings over 6 years
SAVE GREEN BY GOING GREEN
The all-new MINI Electric is one of the most affordable premium EVs on the market. With a low starting MSRP, there are additional ways to save even more. Paying for gas and oil changes are a thing of the past. You'll also be eligible for potential Federal, State and local tax credits.
*The effective tax credit depends on your tax situation. We recommend consulting a tax professional to validate credit availability and eligibility. While MINI does its best to keep this information up-to-date, it cannot guarantee the current accuracy or your eligibility. For available federal, state and local EV incentives, we recommend you visit https://www.energy.gov/eere/electricvehicles/electric-vehicles-tax-credits-and-other-incentives
The average US resident drives 13,476 miles per year and spends about $1,262 on gasoline. In comparison, the cost of electricity to power the MINI Electric Hardtop 2 Door is less than half that. Over the six-year average length of car ownership, that's about $4,446 in gasoline savings.
DISCOVER THE POSSIBILITIES

PREMIUM IS OUR NEW STANDARD We've taken our standard features up a notch and packed our electric with Apple CarPlayTM, Active Driver Assistant, heated front seats and more. We want you to look good and feel good when you drive your MINI.
FREQUENTLY ASKED QUESTIONS
What is the MINI electric range?
On a full charge, the MINI Electric has an EPA estimated 110 miles of electric range. We've incorporated features like 2 levels of regenerative braking that permits the flow energy back into your MINI while you drive.
How long does the MINI Electric take to get a full charge?
Charging times vary depending on the type of charger you use. A Level 1 charger provides about 4-5 miles of driving each hour it's plugged into your MINI Electric, while a Level 2 provides 15-25 miles per hour. If you use a public DC fast charger, you can recharge your MINI Cooper SE to about 80% Electric in as little as 36 minutes.
Does weather affect the performance and battery life of my MINI Electric?
Just as with any other car, weather and other environmental conditions can affect the MINI. Extreme cold and hot temperatures may impact the driving range. Battery life is typically unaffected by typical weather conditions. Impacts on range can be minimized by using the pre-conditioning function which brings the car and battery to operating temperatures before driving off, using power from the grid when plugged in.
How do I charge my MINI Electric?
You can charge your MINI electric at home with the Level 1 charging cord that comes with your MINI Electric – you just need a three-prong outlet. If you find yourself needing to recharge while you're out, you can use one of the 19,000 current public charging stations available with more being added every day. You can use your MINI app to locate all the public charging stations available to you while you're on the road, too.
How much does it cost to charge my MINI Electric?
Charging your MINI Electric will typically cost about 1/3 of what it would cost for an equivalent gasoline model. Since all drivers will have different driving experiences, it is easy to calculate your average cost by multiplying your cost of electricity per kWh by the amount you are charging in kW.
Do I need special equipment to charge my MINI Electric vehicle at home?
Your MINI comes with a level one charging cord that does not require any special equipment, just a standard three-prong outlet. For faster charging, an EVSE or wallbox can deliver a faster charge at your home or workplace. On the road, public charging can be utilized.
How much does a MINI Electric save me by cutting gas and maintenance costs?
You could experience an average savings of $632 on gas and $1,500 on maintenance costs a year. You'll never need to stop for an oil change ever again with your MINI Electric.
Which states offer tax incentives?
State incentive programs for Electric vehicles vary in their cope and applicability. While tax incentives are most frequently mentioned, HOV access, tool reduction and sales tax exemptions are also offered. States currently offering tax incentives include California, Colorado, Connecticut, Delaware, Louisiana, Maryland, New York, and Pennsylvania. These state tax incentives currently range from $1,500 to $5,000.
What is included with my MINI Electric warranty?
Your MINI Electric car lease and warranty includes a 12 Year/Unlimited Mileage Rust Perforation Limited Warranty, a 4 Year/50,000 mile Limited Warranty, a 4 Year/Unlimited Mileage Roadside Assistance Program, and an 8 Year/100,000-mile High-Voltage Battery Warranty. You can also enjoy our complimentary program for the first 3 years or 36,000 miles, whichever comes first, on scheduled maintenance*, meaning your costs will total $0 for your Cabin Microfilter, Vehicle Check, Battery Charge, Battery Check, and Brake Fluid.

*coverage is not transferable to subsequent purchaser, owners, or lessees. Please see MINIusa.com or ask your authorized dealer for more information.